Greetings, fellow Rotarians!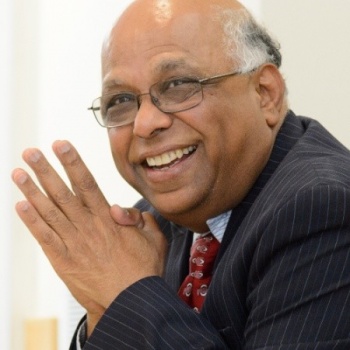 My name is Sridhar. It is a pleasure and privilege for me to serve you as Governor of District 6220.
At the very outset, I sincerely thank District Governor Scott Knaffla, Presidents, the entire District Leadership Team, and Lisa VanderKelen (District Executive Secretary). They have served with distinction during a particularly challenging year, and they have paved the way for me to follow.
We are emerging from behind the dark clouds that blanketed the world in form of a pandemic that has affected our lives significantly. In the true Rotary spirit, it is my belief that, we have emerged stronger and more intentional in continuing our Rotary journey together.
"Together, we see a world where people unite and take action to create lasting change — across the globe, in our communities, and in ourselves."
This is the vision of Rotary International. Successful pursuit of this noble vision is possible only through our 4Cs:
Firm Commitment to the ideals of Rotary
Collaboration across clubs, districts, and community organizations
Generous Contribution of your time, talent and supporting the Rotary Foundation
Communication that is authentic, transparent and timely
In consultation with leaders from across the District, we have developed the Strategic Plan 2021-2024. We have prioritized the four strategic goals of the Rotary, and developed the 22 specific objectives to achieve this vision. Please do access the document from our District website. You will find a number of recommended ideas and activities you can use to achieve the goals and objectives
My District Leadership Team and I are ready to assist, and to support our members, and our clubs, as you implement these strategic goals and objectives. It shall be our endeavor to ensure your success. Please feel free to reach out to anyone of us. We are here for you!
I am planning on meeting you all in person (a) to listen to your ideas and suggestions, and to share my own hopes and dreams for us. Let us serve together to change lives.
One more thing! Let us have fun. Let's cherish friendships and fellowship, injecting a big dose of fun into Rotary experience.
I feel very optimistic about our future together. Let us all enjoy the ride!
Thank You!
Sridhar
District Governor
Rotary District 6220
(920) 205-4484