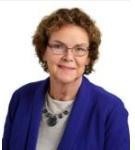 My name is Julia Wallace, a member of the Rotary Club of Green Bay. It is a pleasure and privilege for me to serve you as Governor of Rotary District 6220 for the 2023-2024 Rotary Year.
At the very outset, I sincerely thank our Immediate Past District Governor, Dave Anderson, from the Wausau Early Birds Rotary Club; our Club Presidents throughout District 6220; the entire District Leadership Team; and Lisa VanderKelen, our District Executive Secretary. They have all served with distinction this past year and have, most certainly, paved the way for me to follow. I am excited to work with this outstanding group of leaders in the year to come.
"Together, we see a world where people unite and take action to create lasting change — across the globe, in our communities, and in ourselves."
This is the vision of Rotary International. This is also the vision embraced by each and every one of your District leaders. To fulfill this vision, we have developed a 2023-2025 District Action Plan that outlines strategic objectives that will allow our District and its clubs to thrive. Based on our 2021-2024 Strategic Plan and modified last year as a result of a district-wide membership survey, the new Action Plan is premised on the notion that we can "grow Rotary through service" and reflects the four strategic goals of Rotary International:
Increase Our Impact
Expand Our Reach
Enhance Participant Engagement
Increase Our Ability to Adapt
Our entire District Leadership Team is ready to assist and support our members and clubs as we work together to implement this plan. After all, the only reason Rotary District 6220 exists is to help our clubs succeed. Please feel free to reach out to anyone of us. We are here for you!
I am planning on meeting you all in person throughout the course of this year to listen to your ideas and suggestions, and to share my own hopes and dreams for us. Together, let us "Create Hope in the World" and in our clubs and communities, and realize the vision that unites us all.
I feel very optimistic about our future together. Let us all enjoy the ride, have fun, and cherish the friendships and fellowship that makes Rotary the outstanding organization it is.
Thank You!
Julia Wallace
District Governor
Rotary District 6220
RotaryJulia23@gmail.com
(920) 460-0939