What is RYLA?
RYLA is a 3-day leadership training opportunity that focuses on the personal and professional development of high school students. Leadership skills, concepts and metaphors are explored through participatory outdoor-based activities that include trust building and relationship exercises, problem-solving initiatives, and low and high challenge course experiences.
When and where does it take place?
RYLA takes place at Camp Manito-wish YMCA in Boulder Junction, WI. RYLA 2023 will be held from Friday September 29th, thru Sunday October 1st. Registration begins at 9:00am Friday with programming beginning at 11:00am. The Weekend concludes at 2:00pm on Sunday.
Why does it exist?
Participants, the leaders of tomorrow, deserve the opportunity to be exposed to the principles of leadership that are learned not inherited. RYLA provides an enjoyable and valuable experience for those who meet the challenge to lead from their hearts. This conference is dedicated to helping individuals be the very best they can be, to leave after only three days feeling refreshed and driven to have a positive impact on the world.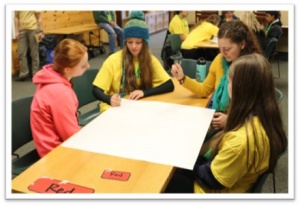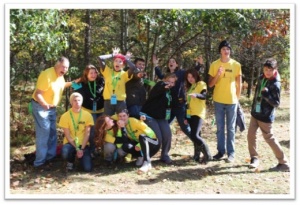 The purpose of RYLA is to:
Encourage, assist and train selected youth leaders in leadership – to help them realize their potential and how powerful and impactful they can be.
Publicly recognize the commendable qualities of the many young people who are already starting their journeys in making a difference in the world around them.
Demonstrate Rotary's investment, respect, and concern for youth.
At RYLA, participants will:
How do I attend RYLA:
RYLA participants are sponsored by Rotary Clubs within district 6220. Clubs pay for and provide/arrange for transportation to RYLA for their participants. Those eligible to be participants are High School age students and Rotarians of all ages.
For High School students

Reach out to your local Rotary Club and ask about RYLA and the possibility of being sponsored. You can find a list of Rotary Club Presidents at Rotary District 6220 (ridistrict6220.org)
E-mail the RYLA committee at ryla6220@gmail.com
Once you have a sponsorship register for RYLA at the link below and see the "RYLA What to Bring" list below to ensure you have everything you need to have an enjoyable weekend!

For Rotarians

Talk to your club about attending and have them sponsor you or sponsor yourself.
Register for RYLA at the link below and see the "RYLA What to Bring" list below to ensure you have everything you need to have an enjoyable weekend!
If a participant is age 18 or older they will be required to complete an application for a background check.
After Participating, How can I give back to RYLA:
Participation in RYLA can just be the beginning of a progressive leadership development opportunity. As a past participant you can apply to become a Facilitator of this wonderful experience. RYLA in 6220 has additional leadership development opportunities in the form of:
Student Facilitators, after participating, apply to come back to RYLA and co-lead a group through the RYLA experience!!
Super Facilitators, after participating, and after Student Facilitating, apply to come back to RYLA and help train and guide your Student Facilitators through leading RYLA!
Rotarian Facilitators, after participating as a Rotarian, reach out to your RYLA committee for an opportunity to come back to RYLA as a Rotarian Facilitator where you can offer your experience and perspective in a supporting role to your facilitation team.
See the position descriptions below for more information and watch for the application links and/or notification e-mail from committee letting you know the application period is open. (Typically December)
RYLA FORMS
RYLA Registration Form:
After you've been selected by a Rotary Club, register for this year's RYLA on Eventbrite. Click/Register Here. The registration form opens in March and closes the week before RYLA. If you are under age 18 you will need to have a parent or guardian with you for consent and for health questions and insurance information.
Club Commitment Form:
To reserve spots in this year's RYLA have your Club Contacts fill out the commitment for letting us know how many participants your club plans on sponsoring. This includes all student participants and any Rotarian Participants you are sending. We ask that you fill out your Club Commitment Form prior to August 15th to help your committee plan! Commitment form open all year.
Student Facilitator Application:
After you have participated in RYLA, apply to return as a Facilitator to lead a group at RYLA! Form opens in December and closes in January.
Register Here
Super Facilitator Application:
After a student facilitation role apply to be a SUPER Facilitator and lead our leaders! Form opens in December and closes in January.
Register Here
Rotarian Facilitator Application:
After participating in RYLA volunteer to return as a Rotarian Facilitator to provide support to your facilitation team at RYLA and bring Rotarian values to your group and the conference. Simply contact the RYLA committee and discuss your willingness to facilitate.
DOCUMENTS
For More Information or For Any Questions You Have Please Contact Us At: RYLA6220@gmail.com